Located about one mile from Stonesville, Rockingham County, North Carolina
Rockingham County was formed in 1785 from Guilford County and the early settlers appear to have moved back and forth across the state line from
Henry County and Pittsylvania counties in Virginia. Pittsylvania was formed in 1767 from Halifax County .

More Notes on these Families - Here

Excerpt from
The Heritage of Rockingham County North Carolina 1983
"There have been generations of people by the names of Goins, Hickmans, Kyles, Harris, Lyles, Richardson, Kimmons, Gibsons and a few other names. - These people have many features of Indian, Portuguese, and other nationalities."
Gibson
Thomas Gibson died in Henry County, Virginia in 1780, his will written on January 3rd it names his wife, Mary, and only one daughter, Cuzziah.
Zackeriah King
, Joel Gibson and Lambert Dotson were named as executors. Joel and Charles More along with Joseph Nicols were witness to the will. On March 23, 1780 it was probated and the records show; exhibited by Joel Gibson who gave bond with Lambeth Dodson and Champain Gibson as his securities.
Further records shows On 22 June 1765, according to the Pittsylvania County patent book, Lambeth patented 400 acres on the main fork of Mayo River which he transferred to George Gibson on 19 September 1766.
Lambeth entered 228 acres in Guilford County, North Carolina on 9 January 1779 (Rockingham formed from Guilford in 1785). It was surveyed 10 June 1779 by Joshua Smith, with William Kellam and Joel Gibson acting as chain carriers. The grant was issued 1 March 1780, 228 acres below and in the fork of Mayo River, beginning at a poplar on the south bank of the North Fork of Mayo in the Virginia line, adjoining Joel Gibson and Philip Angling, and including the improvements of Thomas Gibson and Esaw Dodson. On 9 July 1784, Lambeth Dodson of Henry County, Virginia sold 153 acres of this tract to
Zachariah King
of Guilford County, North Carolina.
From Pittsylvania County Court Records - Applications to raise dams for grist mills is George Gibson on Crooked Creek dated June 1772.
CHAMP GIBSON

Champ Gibson was born in 1746 and married to Elizabeth, last name unknown, by 1774 when his daughter Jane was born. He is first found in records in Henry County when he appears on the record of Thomas Gibson's will in 1780. A
deed
on both sides of Hickory Creek on the Mayo River between Champ and Robert Means shows him in Rockingham County, North Carolina by 1786. Champ Gibson's 191 acres on Hickory Creek was divided among his ten sons and daughters in 1820. Champ Gibson was found in Halifax County in 1771
See Notes
The children of Champ and Elizabeth Gibson
i. Jemimah
ii. Alexander
iii. James
iv. Margaret
v. Jane b. 1774, North Carolina.
vi. Fanny b. 1783, North Carolina.
vii. Elizabeth b. 1790, Rockingham County, North Carolina; d. Res: Hawkins County, Tennessee.
viii. Chaney b. 1790, Rockingham County, North Carolina; d. Res: Hawkins County, Tennessee.
ix. Pleasant b. 1795, North Carolina; d. Stokes County, North Carolina.
x. Stephen born 1790, Rockingham County, North Carolina.
(i) In 1823 Jemima Gibson living in Hawkins County gave power of attorney to Tyre Gibson of Hawkins County, Tennessee. Tyre Gibson may be the same man bailed out of the Lee County jail in 1822 and possibly a brother of Vardy's wife, 'Spanish Peggy Gibson? Was Jemima married to Tyre Gibson?
(ii) Alexander Gibson married Charlotte Jinkins on February 11th 1820, lived in Rockingham
(iii) James
(iv) Margaret married William Moore and resided in Rockingham County.
(v) Jane married Johnson Goin and remained in Rockingham also. Likely the source of many of the Goinstown Indians.
(vi) Fanny married Ansel Rogers by 1831 - Ansel and Fanny were living in Washington Co., Virginia (Rockingham Co., North Carolina Deed Book 2dC p 202 in 1832)
(vii) Elizabeth married Randal Riddle moved to HAwkins Co., Tennessee (Rockingham Co. Deed Book 2dF p392)
(viii) Chaney married James Harris (Rockingham Co., NC Deed Book 2dG p58 in 1836)
(viiii) Pleasant Gibson served in the War of 1812 Lived in the Goinstown community on the Rockingham and Stokes County border until the 1850s and then moved over to what would become Quaker Gap Township in Stokes County. In 1826 he bought the rights of sister Chaney and her husband James Harris, 19 acres on Hickory Creek and in 1832 bought the 19 acres of his sister Fanny Rogers.
(x) Stephen married Elizabeth Moore on February 25th 1816 and remainedin Rockingham County and received a pension for service during the War of 1812.

By 1870 the Cornelius Harris and Obediah Riddle family moved to Paoli, Orange County, Indiana.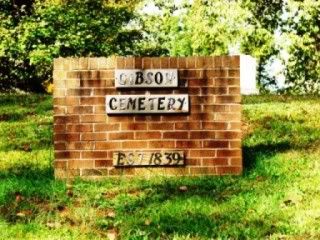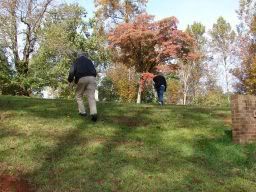 Gibson Cemetery on Hickory Creek - There is a stone for Elizabeth Gibson, wife of Champ Gibson and although I have been told by several people they have seen the stone of Champen Gibson there, dated 1746-1820, we couldn't locate it in 2006.
---
Goins
The 1790 census of Rockingham shows a James Gowing over 16 with three males under 16 and three females. This James Gowing/Goins may be the same mentioned in the deed of William Boyls of Stokes County on November 30, 1796 and mentions the land "formerly owned by James Goins adjoining Valentine Gibson."
John Goins had land on Blackberry Creek, William King and Zachariah King also had land on Blackberry Creek. Zachariah King was mentioned in the will of Thomas Gibson in 1780 along with Joel and Champ Gibson. James is possibly the father of Johnson Goins who married to Champ Gibson's daughter about 1795. These King, Gibson and Goins families are found in East Tennessee later.
Lewis Goins was born around 1813 in Rockingham County, North Carolina and is likely the son of Johnson and Jane Gibson Goins, grandson of Champ Gibson. Around 1855 Lewis left Rockingham County and removed to Rogersville, Tennessee where his mothr's sisters, Elizabeth (Riddle) and Chaney (Harris) had moved some time before.
11 Dec 1895
Lewis Goins, an aged and well known citizen of our county, died at the residence of Harris Bell, on Cave Ridge near town, Tuesday night after an illness of about 6 weeks, aged 84 years. Until his last illness Mr. Goins had never been sick but two days before in all his life, and was an exceptionally well preserved man. He was very dark complected and claimed to be of Portugese stock. He was a member of the Baptist Church. The remains were interred at Cedar Grove near the River.
(Distant Crossroads, Volume 19, number 3, 2002)
---
Most of the Goins are buried in this Harris Cemetery in Rockingham as well as the Gibson Cemetery
Harris


James was born 1748 and resided in Orange County, North Carolina in 1775 when he enlisted in the service for the Revolutionary War and resided in Henry (Patrick) in 1781 and was listed a free person of color. He married to Keziah Minor about 1801 in Rockingham County, North Carolina. Keziah is likely related to the Hezekiah Minor family who was also living in Rockingham County in that time frame and later went to Hancock County, Tennessee also.
John Harris, associate of Valentine Gibson of Cascade Creek was associated with a
David Harris
whom he raised as a son but is thought to be a 'Woods' according to DNA results. John may be the brother of the above James Harris and sons of James Harris of Orange County, North Carolina who died testate in 1785. His will was dated August 6, 1785 and is found in Will book A on page 337. He bequeathed his land on the Flat and Eno Rivers to his sons Richmond, James, and John. Also named in his will are his daughters Elizabeth, Sarah and Suzannah. He names Richmond Harris, Edward Harris and Richard Bennehan as executors.
Nancy Goins, daughter of Jesse James Goin and Nancy Goin, was born about 1793.

She was mentioned as one of the younger children in the 1807 will of her father.

She was married about 1810 to Robert Harris, regarded as the son of James Harris, Revolutionary War soldier and pensioner. Robert Harris and Nancy Goins Harris were regarded as mulattoes in Virginia, but when they reached Kentucky and Illinois they were recorded as white.
Beveridge Going was married July 26, 1810 to Agnes Harris, daughter of James Harris, according to

Patrick County, Virginia Marriages, 1791-1850

. (Gowen Research)
---
---