---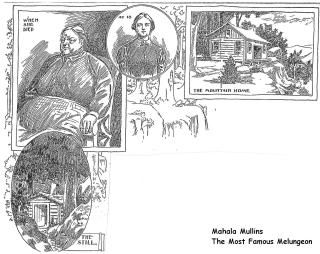 NOT TOO BIG FOR DEATH
Knoxville- September 24, 1898
Mahala Mullins, a noted moonshiner of Hancock County, is dead, aged 75. She was the mother of 18 children and weighed 550 pounds. It is reported that she was poisoned by envious makers of illicit whiskey. She had been arrested frequently but the officers could not remove her on account of her size and the isolated location of her home.
---
Naugatuck Daily News September 19, 1898
Mahala Mullins, Moonshiner, Dead
Knoxville, Sept. 19
Mahala Mullins, a white woman weighing 650 pounds, who for years has been the most noted moonshiner of the Tennessee mountains, is dead. She had defied arrest for many years as the revenue officers were not able to take her down the mountains. She dealt in illicit whiskey in large quantities, and openly said that it was not wrong for her to make her living in that manner. But when the war revenure tax was imposed the woman purchased a supply of stamps, and since that time has been affixing them regularly to the whiskey which she sold to the mountaineers.
Mahala Mullins buried two sons and a husband in the lot in front of her house, where she could sit in the doorway and see the graves. She had lived alone for the last two years.
---
THE MEXICAN HERALD
September 18, 1898
-----------------------------
COULD NOT ARREST HER
----------------
Famous Moonshiner Dead. Defied Law Officers From A Mountain Top
------------
Knoxville, Tenn Sept 17
News has just been reached here of the death of Mahala Mullins, the famous fat woman and moonshiner of Hancock County. Mrs Mullins weighed 500 pounds and lived on top of a mountain, where she conducted a "still" in defiance of the law. The officers were unable to arrest her on account of her size, there being no way to get her down the mountain. Mrs. Mullins is one of a tribe of Melungeons who's origins have been a mystery to ethnological students for many years.
---

HOME MISSION MONTHLY

A Visit To The Melungeons
C.H. Humble ~ 1897
"
The most noted person now among them is Mrs. Mehala Mullens, widow of John Mullens. About twenty children were born to this couple, three of whom met violent deaths, ons son being shot in the streets of Sneedville, another in her door yard, and a third lynched in Texas.

She is over seventy years old; weighs, it is judged, about 400 pounds; cannot walk, stand, or lie down; but sits on her bed day and night. Beside her is a cask of whiskey on which stand tin cups and measures. The faucet is at her hand that she may conveniently dispense liquor to all who want it.

She seems to enjoy the notoriety, and when the officers came with a writ for her arrest, she laughingly said "Execute it!" Her size, ill health, and steep rocky roads leading to her house on Newman's Ridge, rendered her transportation dangerous if not impossible; so she sits and sells in defiance of law. I asked what she was going to do with all the fruit in the large orchard? She replied, "The boys know how to work that up." I presumed into apple brandy, and she will do the rest.

She was quite willing to have her picture taken, but wanted a copy of it. When Mr. Hamilton asked for her address her daughter interposed. "You did not tell him how many yards it takes," and turning, said: " It takes twelve yards to make her a dress." The old lady saw her daughter's mistake and corrected it, otherwise Mr. H. might have taken the order.

Privately, I said, "Why do you, so near the grave, go on selling this destructive stuff to the young men?" She replied, "It's the only way I can make a livin'." She would only half promise to think of the evil of it. The old sentiment of the people makes it innocent, the notoriety makes it pleasant, and the money makes it profitable, and habit blinds her to the curse it has brought to her own door.


---
SHE SELLS MOUNTAIN DEW


BROAD AX
SALT LAKE CITY
4/10/1897
When the revenue Officers Come to Arrest Her She Says, "Take Me"
From the Atlanta Constitution:

Betsy Mullens is the largest woman in Tennessee. She lives in a little log house on top of Newman's Ridge, in the mountains of Hancock County, where she earns a living by the sale of illicitly distilled whiskey in open defiance of the government officers, who have time and again been sent to arrest her, but have never been successful. Her avoirdupois is about 540 pounds, and this accounts for the woman never having bee arrested. It was in the fall of the year just passed that I visited the Mullens home, in company with the revenue officers from Knoxville.

The place where she lives is sixteen miles from the railroad, and by no means easy of access. As you near the foot of the ridge where the woman lives you can see her cabin on the top.

A conveyance cannot wend its way to the home, and those who wish to see the largest woman in Tennessee, and one who has caused more talk than any other woman in the state, have to leave their conveyance behind and make it on foot up the steep mountain side. Approaching the house, the first thing out of the ordinary which attracted my attention were four mounds in the back yard, which, upon inquiry, I learned, were the graves of her husband and three sons, the latter having given up their lives in mountain fights and had been buried in the yard, where the mother could turn from her bed in the little house and gaze at the spots which contained beneath their grassy sod all that was mortal of those who were so near and dear to her.

For years the woman has been bedridden. Not that she is sick, but her immense size is such that she is unable to walk or move around like other people. Her husband was for years an invalid, and the family was without visible means of support until Betsy conceived the idea of selling whisky. There are any number of illicit stills in the mountains near by, and just across the line in Kentucky, and with their operators Betsy made arrangements for her supply of "mountain dew." It is brought to her in stone jugs, and from her bedside she can reach down and pour out any amount of whisky which the patrons of her place may desire. In open defiance of the law has Mrs. Mullens carried on this method of liquor selling for years.

The federal grand jury has indicted her time after time, and officers have been sent to arrest her, but that was all. They would come to her bedside and serve the papers, but could not take her to court or to jail. Her size baffled them. It would take half a dozen strong men to carry her out of the house and when the outside was reached they would not be able to get her to the road at the bottom of the ridge, as it is impossible to get a wagon to the top, where her cabin is located. Every time the officers call at the house she simply laughs and says, "Take me if you can." The officers cannot take her and that is the end of it.

In Mrs. Mullens will be found the personifications of ignorance. Her knowledge of the world is confined to a radius of three miles of her home. She was born near the place where she lives, and has never been of off the ridge. Never saw the little county town of Tazewell, the county seat of Tazewwell county, and has never seen a railway train, although she is at present nearing the fiftieth milestone of her monotonous life. She delights in having visitors call to see her and talks interestingly. During all the years that Mrs. Mullens has been confined to her bed she has seen her three sons and husband pass to the beyond.

She could not attend the funeral services at the little church, which is situated several miles from her home, and the funeral services if such they might be called were held in the rooms where the mother and wife lay on the bed, and their bodies were laid to rest just outside the door in the back yard, where she could witness the interment. The woman takes her misfortune good naturedly, and says that she will continue the sale of whisky until her time to die has come, and then she too expects to be laid to rest beside the bodies of her husband and sons in the little plot in the back yard, known as the family burying ground of the Mullens family.


---
The Most Famous Melungeon
Mahala Mullins
Massilion Independent
10/21/1897
HER FAT IS HER FORTUNE
Why Mary Mullins Sells Moonshine Whisky With Impunity
Once again Mary Mullins is driving the revenue officers of Tennessee to desperation. She is making moonshine whisky and selling the same and doing both openly and defiantly. A dozen warrants have been issued for her arrest. A dozen revenue officers have started out to serve them and conduct Mary in triumph to jail. Mary invariably has received warrants and officers in person and with hospitable welcome. "The warrants are correct." she invariably says "I am guilty as charge. I am yours. Take me."
And not an officer yet has been found who was capable of taking her at her word or taking her in any other way. For the fact is Mary tips the beam at 690 pounds, and, furthermore, she has so outgrown the width of any door in the house in which she lives that to get her out of doors would involve a technical tearing down of the house over head. This the revenue officers have no authority to do. So they merely walk around Mary in dumb despair. They are absolutely helpless to enforce the law. Mary's fat cheeks quiver with the husky chuckles which with her pass for a laugh and urges the minions of the law to do was the law directs.
"Why don't you do your duty?" she asks in her fat, wheezy voice. "I've been selling moonshine right along. Goin to do it ag'in too, soon's you uns gits out er sight. Why don't yon take me: I'm all yourn–about 700 pounds of me. Take me along with you now."
Thus does Mary tantalize Uncle Sam's excise men until they go off in despair, leaving Mrs Mullins mistress of the situation.
It is on a lonely mountain in Hancock County, Tenn., that Mrs. Mullins has her abode. She has lived there all her life, and never has seen even so much as a village.
---