NOTES;



Gibson, Valentine. grantee.




DATE 5 June 1765.




NOTE Location: Halifax County.




NOTE Grantee(s): Harris, John and Gibson, Valentine.




NOTE Description: 404 acres.




NOTE Source: Land Office Patents No. 36, 1764-1767 (v.1 & 2 p.557-1083), p. 728 (Reel 36) Valentine Gibson and John Harris were in Halifax County in 1765
21 Mar 1771 Road Order: George Combs appointed Surveyor of the Road leading from

Boyd's Road to Roberts' Road...ordered that he, with male tithables belonging

to Moses Hendrick, William Echols, Sr., John Anderson, Mead Anderson,

Shadrach Gowing,

Harry Hereford, John Chapman, John Hood, Nipper

Adams,

William Donathan

, Thomas Spencer, William Mays, Nathan Sullins,

Charles Henderson, George Wood, George Stubblefield, Daniel Easely,

Stephen Easely, Joshua Adams, Thomas Lovelace, Samuel Wilson, George

Brown,

Champ Gibson

, and William Chandler, do forthwith lay open and

clear the said Road, and they then return to their former road. (Halifax

County, VA, Court Orders, 7:80)
[
Feb 1761 Deed:
William Eckhols
, Jr., and wife Rachel, to
Moses Hendrick, all of
Halifax County,
for £19, 222 acres in Halifax County o
n Polecat Creek where
said Moses now lives
, adjoining Hugh Moore's line–being a patent to Hugh
Miller, who conveyed to said Eckhols... /s/ William Eckhols, Jr. Wit: Joseph
Collins, William Marchbanks, Owen Brady. (Halifax County, VA, Deeds
3:32 ]
Thomas Gibson died in Henry County, Virginia in 1780, his will written on January 3rd it names his wife, Mary, and only one daughter, Cuzziah.

Zackeriah King

, Joel Gibson and Lambert Dotson were named as executors. Joel and Charles More along with Joseph Nicols were witness to the will. On March 23, 1780 it was probated and the records show; exhibited by Joel Gibson who gave bond with Lambeth Dodson and Champain Gibson as his securities.
9 July 1784, Lambeth Dodson of Henry County, Virginia sold 153 acres of this tract to

Zachariah King

of Guilford County, North Carolina. Lambeth signed the deed by name. (Guilford deeds 3-212).
Rockingham Co., NC Deed Book F, page 158 This Indenture made this 10th day of August in the year of our Lord 1799
between ELIZABETH BUNCH of the County of Henry and State of Virginia of the
one part, and PETER HUNTER of Rockingham, State of North Carolina of the
other part - Witnesseth that the said Elizabeth Bunch doe bind & by these
presents have bounded WILEY BUNCH, a child of the said Elizabeth Bunch unto
the said Peter Hunter to serve him the said Peter Hunter his heirs or
assigns to the age of 21 years, and the said Peter Hunter covenant grant to
& with the said Elizabeth Bunch and her assigns that the said Peter Hunter
will find & provide for the said child during his said servitude sufficient
drink, washing, clothing & lodging, teach or cause him to be taught to read
and to instruct him in the Christian religion and to learn the said Wylie
Bunch plantation business. The said Wylie Bunch was born December the 24th
1792, as witness my hand the day & year first above written.
Elizabeth (her X mark) BUNCH
Sealed & Delivered in the presence of:
Zachariah KING
John (his X mark) HUNTER

*On October 14, 1747 Gideon Bunch had 200 acres on Lower Reedy, a branch of Smith Creek in Henry County

*On November 6, 1747 - John Gibson 135 acres on North side of Smiths or Irwin River

---
1778 - William Moore 100 acres both sides Buffalo Branch of Mayo
1779 - Lambert Dodson 228 acres below in fork of Mayo on Virginia line joining Joel Gibson including improvement of Thomas and Esau Gibson.
---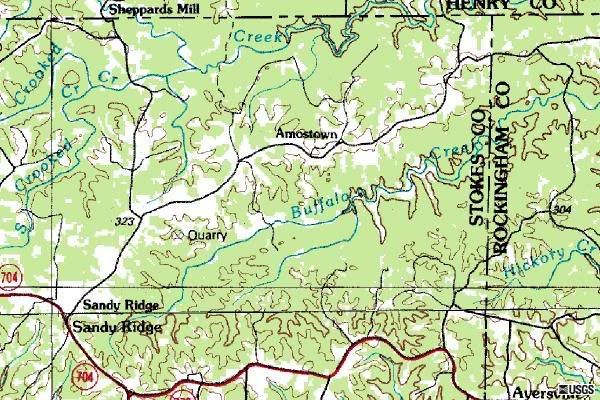 Joel Gibson on Buffallo Creek and Mayo - Champ Gibson on Hickory Creek and Mayo and Crooked Creek in upper right hand corner in Henry County is where George Gibson had land in 1772, probably from Lambert Dodson.
---
North Carolina Abstracts of State Grants
March 1, 1780 -
Joel Gibson
282 acres on north side of Mayo join Philip Angelin
March 1, 1780 -
Lambeth Dodson
228 acres below and in fork of Mayo joining Virginia line Both sides of S fork opposite land of
Joel Gibson.
March 1, 1780 -
Champ Gibson
300 acres on both sides of Hicory Creek of Mayo River joining Alexander Lyell and both sides of (several) creeks.
March 1, 1780 - James Brison 400 acres on the south side of Mayo river joining the sd river below the Mouth of Buffaloe Creek, both sides of (several) branches, and both sides of the sd Creek Opposite (land) of
Joel Gibson and Andrew Gibson.
<>
<>
---
Charles Moor and Zachariah King - both witness to will of Thomas Gibson in Henry County, Virginia in 1780 along with Champ and Joel Gibson. Peter Hunter -
>
Rockingham County -- Here


---
---